Knowledge Center
Moisture Damage
Moisture damage is a risk factor in any supply chain. It is caused by excessive moisture in product packaging and transport units.
Uncontrolled moisture is a destructive force during transport and storage and leads to
MOLD / MILDEW
CORROSION
WARPING OF THE PACKAGING
DETERIORATION AND MALFUNCTION OF THE PRODUCT
STAINING AND DISCOLORATION
CAKING
BAD ODOR
Molds play an important role in the decomposition of organic matter in nature. Mold spores are often found in the air and in dust. Molds need two basic conditions for optimal growth: moisture and nutrients.
Corrosion can cause structural damage to a product, but even mild corrosion affects the commercial value of a product. Water is the most common catalyst for corrosion.
Deformation, product deterioration, and malfunction describe the mechanical or electrical failure of materials, products, or packaging. Excessive moisture causes loss of strength, warping or staining and can cause components to malfunction. Discoloration and odor affect the market value of goods and require costly removal upon acceptance of the shipment.
Moisture control is the most effective measure to prevent damage.
Goods shipped in sea containers are particularly at risk because containers offer an ideal microclimate that increases the risk of moisture damage. During any sea transport, the temperature inside the container fluctuates greatly. A drop in temperature leads to condensation of water, as cold air stores less water than warm air.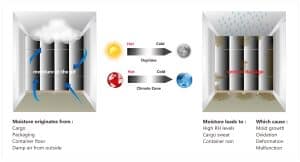 When the container is exposed to temperatures below the dew point, moisture from the ambient air condenses, which is mainly visible on the ceilings and walls of the container. These water droplets can drip onto the cargo, a process known as container rain. Condensation can also occur within the packaging of the goods, which is known as cargo sweat.
These are repetitive processes during transport that increase the risk of moisture damage, such as mold growth, corrosion, deformation, malfunction or odor.